Our highly trained mobile dentistry team can complete comprehensive examinations, routine dental cleanings or periodontal maintenance, emergency and palliative care, oral cancer screenings, fillings, crowns, dentures, and most any other dental service on a private pay basis. If patients require more comprehensive treatment or need ambulatory care they can be treated at the Neville Dental Care office in Holland, PA.
Reduce your risk of a fall.
Getting to and from the dentist can often be a pain, and even dangerous during the winter months. Not only do we bring oral healthcare to your home, we're capable of seeing clients in their wheelchair or bed if the need arises.
No need to arrange for travel to and from the dentist. No need to trouble loved ones or community staff for transportation. No time spent in a waiting room.  
Reduce stress, fear, and anxiety.
By having your dental visits in a familiar environment, you'll be able to relax comfortably and safely while we travel to you.
 Poor oral health has been linked to systemic diseases such as kidney disease, heart attacks, strokes, diabetes, and more. Having regular dental care can reduce these risks.
Understand the state of your oral health.
Using digital x-rays and the information gathered from your comprehensive exam, our team will explain any existing conditions and necessary treatments needed to maintain a healthy smile.
Serve an entire facility.
We can provide private, compassionate dental care in each resident's room. Contact us to learn more about our facility agreements to treat all residents.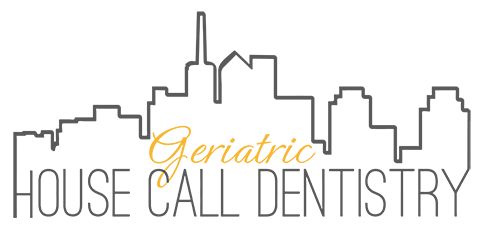 Dr. Abby Neville is a proud partner of the Geriatric House Call Dentistry Network
Geriatric House Call Dentistry is a national network of acclaimed dentists who offer premier dental care for homebound elderly patients. 
Schedule an appointment with The Traveling Dentists today.